Constitutional Law & Lawyers in Pakistan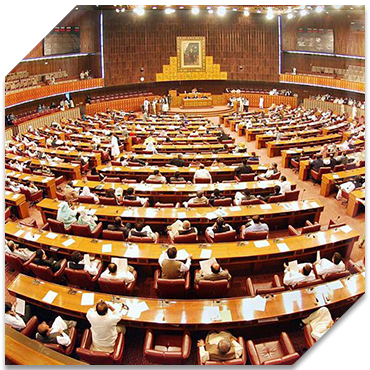 Here you may find information as to constitutional law and lawyers in Pakistan, law of writs in Pakistan and jurisdiction of courts in Pakistan. Our dedicated team of professional lawyers best assists their clients as to constitutional litigation and related services in Pakistan. Constitution is not an ordinary statute made in ordinary legal procedure. It is the creation of a Constitutional Act and therefore the sanctity of a Constitution is much higher than any statute made by the legislature. A Statute is an act to fulfill a particular social, political or economic need and so its efficacy of importance does not endure so long. But a Constitution is made to endure with the avowed purpose to fulfill the aspiration of the people who made it. It is by the people, for the people and a documentation of the cherished good of the people. Constitutions are not conceived and acted in vacuum, and as an instrument of Government. It is always intended the condition and as it is itself conditioned by the circumstance and environment of the community whose activities seek it to regulate. It is never internal and differs from other laws only in respect of general national purpose, it has in view. Constitution, written - unwritten has a philosophy of its own: it is the means of ordering the life of people. This way we should have good understanding of our constitution.
---
One reason why the law of constitution is imperfectly understood is that we rarely put it side by side with the constitutional provisions of other countries. In other words a comparative study of the constitution is absolutely necessary for its perfect understanding. Apart from it we should also study to find out that what was in the mind of constitution makers.
Constitutional interpretations by Courts have played an important role in settling political problems as well as other issues involving individuals and parties. These interpretations have also restricted or expanded the scope of action of different functionaries of the Government and enabled individuals and groups to enjoy constitutional and legal protection. The Supreme Court of America, in a case held that an unconstitutional act is not a law, it confers no rights, it imposes no duties, it creates no offence and this act is inoperative as it has never been passed. The Superior Courts in Pakistan also support this viewpoint. In all matters, aggrieved person can avail the statutory remedy of Appeal or Revision, which is not some times adequate, effective, efficacious, convenient, beneficiary and expeditious. In such situations the aggrieved party can avail the extra ordinary remedy by invoking constitutional jurisdiction of the High Court or Supreme Court, which is obviously speedy and effective remedy and foster the justice. These conditions occasionally overlap or conflict with each other.
Law of Writs in Pakistan
A writ is an official written directive issued by an organisation with administrative or judicial jurisdiction; in modern sense, this organisation is known as a court. There are many types of writs exist including prerogative writs, summons and warrants but there are many others.
The writ, in common parlance, is an order issued by a court in the name of an authority requiring the performance of a specific act.
Prerogative Writs
The "prerogative" writs or writs based on privileges are a subclass of the group of writs, those that are to be heard before regular cases on a court's docket except other such writs. The most common types of prerogative writs are mandamus, certiorari, habeas corpus, procedendo, prohibito, and quo warranto, although these technical names have not been prescribed in the constitution.
Writ of Mandamus
Mandamus is a judicial remedy which is in the form of an order from a superior court to any subordinate court, organisational or public authority to do or refrain from doing some specific act which that body is obliged under the law to do or abstain from doing, as the case may be, and which is in the nature of public duty and in certain cases of a statutory duty. It cannot be issued to force an authority to do something against any statutory law.
Writ of Certiorari
Certiorari is a writ intending for seeking judicial review, currently means an order by a superior court directing a lower court, tribunal, or public authority to submit the record in a certain case for review.
Writ of Habeas Corpus
Habeas corpus is a legal action through which a prisoner can be released from an unlawful custody or detention. The remedy can be pursued by the prisoner or by another person coming to his / her assistance. Habeas corpus originated in the English legal system, has historically been an important legal mechanism, protecting rights of individual against arbitrary governmental action.
Writ of Procedendo
A writ of procedendo is a remedy where there is a delay in rendering a judgment that amount to a abandonment or denial of justice. It is an order of a higher court to lower court, directing that court to extract a delayed judgment. The writ does not specify as to what judgment the lower court must extract, it merely orders the lower court to proceed to judgment. Rebuttal to comply with the writ may subject the lower court to an excerpt for contempt.
Writ of Prohibito
The Court may issue a writ of prohibition to prohibit the authority from acting in excess of its jurisdiction. This writ is normally issued by a superior court to the lower court asking it not to proceed with a case which does not fall under its jurisdiction.
Writ of Quo Warranto
The writ of quo warranto is issued against a person who claims or usurps a public office. Through this process, the court inquires 'by what authority' the person supports his or her claim.
Other writs
Other writs include audita querela, capias, coram nobis, fieri facias, mittimus, ne exeat republica, praemuire, scire facias, frrts and venire facias etc.
---
Writ Petition Process
A writ petition is a request made by an individual, aggrieved by a court order to receive expedited attention in a court of appeals. An individual who wishes to file a writ petition must first determine if his / her case can be appealed. It's important to remember that all courts will have different requirements dependent on location of court and type of court. You should always pursue a legal counsel when considering a writ petition. These steps will help you to determine the petition-status of your appeal and understand the writ petition process.
---
Writ's Objective
Writ petitions are filed when a petitioner believes that the court has made an error that adversely affected the outcome of their case. You must be able to eloquent the nature of this error and measure its legal stance. If your case concerns an issue of extensive interest or raises an original issue about the law, then you may have grounds for filing a writ of petition. Moreover, if a court ruling could cause you an unintended harm, then you may have an option.
Express Accusations
While every writ petition procedure will differ, each will require you to eloquent the nature of your case and provide an originated reason for expedited appeal. A writ begins with an accusation against a court in which you must briefly state the facts related to your trial. You might highlight key evidence presented in your favour or pinpoint the instant at which you feel the court erred.
Convey Preferred Upshot
The second stage of a writ procedure will require you to tell the court as how you want the court to reconcile its error. Generally; petitioners do this in order of importance, starting with a petition for the court to rehear the case and ending with a request for the court to refund all fees related to the appeal.
Create Entreaty
The third and final part of the procedure is the creation of entreaty, in which you call the court's attention to your statement of fact along with supportive arguments. You must also prove that you have no other solution beyond a writ petition and that you need speedy and justifiable consideration of the writ.
Compliance of Writ
Once you've consulted legal counsel and prepared your writ petition, you can submit it to the court for consideration. All courts have different deadlines for filing a petition so it's important that you check with your local court to make sure you've filed it in time.
Order of the Court
After considering the facts and figures as narrated inside the writ petition, court will issue an order accordingly.
Domains Associated With Constitutional Law
Mortgage Law and Remedies
The mortgagee is an interest as a security for debt subject to the limitation so long as that interest subsists.
Personal Injury and Remedies
Learn about accident law, including drugs, toxic torts, defective products, medical malpractice and filing an insurance claim.
Jurisdiction of Courts
These writs are issued by the High Courts under Art. 199 of the Constitution of Islamic Republic of Pakistan and by the Supreme Court under Art. 184 of the Constitution. The sole object of Art. 184 is for enforcement of the fundamental rights conferred in Part-2, Chapter 1, of the Constitution. No petition can lie before the Supreme Court unless there is infringement of fundamental right. The High Court can interfere, if the action is mala fide or arbitrary or does not confirm to the statutory requirement, or the order is patently erroneous.
Although the writ jurisdiction conferred upon the High Court is discretionary but this right is not a privilege and is a very valuable right conferred on a citizen. Art. 77 of the Constitution provides that no tax shall be levied or collected except by the authority of law and Art. 18 allows free trade, business or profession throughout Pakistan. Any provision of a specific law cannot override Art. 184 / 199 of the Constitution.
Writs are issued by the High Courts under Art. 199 of the Constitution for the enforcement of fundamental rights, for the redress of any other provision of the constitution or any provision of any statute, Ordinance, Order, Rule or Regulation or illegality by any authority. No writ petition can be entertained if any other statutory remedy for such redress is available but where the defect of jurisdiction is apparent on the face of the proceedings, or there is abuse of discretionary power, a writ will be issued despite of the existence of alternate remedy. There is plethora of judgments of Superior Courts which differentiate the circumstances under which these courts should have entertained a writ. Aggrieved persons can contact us for availing this remedy under the Constitution.
The subject of constitutional law is gradually assuming importance in our country due to its relevance to community problems and issues. The issues such as the protection of individual rights and freedoms, the composition and functions of governmental institutions, the powers and functions of State functionaries, etc., are issues of common interest and concern. The study of constitutional law is, thus a matter of increasing interest, not just for the professionals in the legal field, but also to common citizens. A class of this kind at ZA-LLP, therefore, very useful in creating awareness among the people about legal and constitutional issues and leads to better understanding of the evolving legal concepts and principles, thereby paving the way for constitutional rule, observance of rule of law and better governance in the society.
"The Constitution of a country, is not merely a lawyer's document, but is in fact the vehicle of nation's life." It is, thus a politico-legal document and is a revelation of the great purposes which with the legislative, executive and judicial limbs of the State and demarcates their respective spheres of operation. It defines the relationship between a Federation and the Provinces comprised within it. It deals with the fundamental rights and duties of the citizens of the Country. Thus, according to H.L.A. Hart, the Constitution prescribes the paramount norms whereas the law prescribes norms which are in turn derived from the paramount norms.
---
Our Core Competencies
1
Collaborative Skillset
Collaborative lawyers trust the wisdom of the group; lone wolves and isolationists do not do any good anymore.
2
Emotional Intelligence
Distant, detached lawyers are relics of the 20th century, the market no longer wants a lawyer who is only half a person.
3
Technological Affinity
If you can not effectively and efficiently use e-communications, and mobile tech, you might as well just stay home.
4
Time Management
Virtually a substantial part of lawyers difficulties in this regard lie with their inability to prioritise their time.
---
What People Say About Us
We are glad to inform you the receipt of current outstanding balance in our bank account from the disputed party. Therefore we request you to arrange to close the dispute case with them as per our management decision. We would like to take this opportunity to thank you for all the support and advice to solve this matter. It was pleasure working with you all.

Rahul Meppad ~ Dubai, UAE

Thank you for your support in this process and for your great hospitality. Your assistance has been of great importance. It was also important to see and experience the high quality of your services and your well known firm.

Magnus Greko ~ Sweden

Thank you for your support in this process. Your assistance has been invaluable. We are looking forward to a long lasting working relationship with you. Also, thank you for hospitality during these past days.

Lothar Geilen ~ Germany

Dear Atty. Iram Fatima: I would like to let you know that my wife came in USA last week. The U.S. Embassy Islamabad approved her visa petition in the lights of all the wonderful endeavors done by you and Mr. Birach. It was a long legal battle of about 7 years. I must say that your law firm is one of the best in the country and you are a highly professional advocate. Dr. Zafar should feel proud to have you in his crew. Finally, again I would say Thanks for all your legal services and I am your best reference.

Zubair Mufti ~ Texas, USA

Dear Dr Zafar and Iram: Thank you very much for timely submission of the excellent opinion letter. It is very well drafted and covers the key points. We very much appreciate your excellent and timely work in preparing the legal opinion.

Mrs. Iqbal Farrukh ~ San Francisco, USA

Dear Attorney Iram Fatima: Thanks so much for all of your kind efforts in this area and I must admit that your legal firm is the best in the country.

Zubair Mufti ~ Texas, USA

The efficiency and effectiveness of your services are much appreciated.

James Alexander Linton Williams ~ UK

Many thanks for this, and thank you for being so prompt. It is very appreciated.

Alex Gilchrist ~ Somerset, UK

Thank you again for handling my case so well, I am honoured to be represented by you.

Yolanda Slabbert ~ Port Elizabeth, South Africa

Thank you very much for your great attention to my case, I see that you're a very serious company and I'm happy that I've choose you.

Sergio Lujan ~ Bogota, Colombia

I really appreciate the help and support provided by Zafar and Associates to our company. I don't know what to say or how to thank you, but to tell the truth your services are really the best legal services we have ever received. You are truly a professional and effective law firm.

Adnan Branbo ~ Dubai, UAE

Thank you very much for your contribution. We will review the information and incorporate it into the International Citation Manual of Washington University Global Studies Law Review. Your help is appreciated.

Naomi Levin ~ Washington, USA

I wanted to let you know that i got the documents. And i wanted to thank you and the whole team who worked on my case. You all did a good job thanks again.

Naima Ashraf ~ The Hague, Holland

Thank you very much for all the work you have done to ensure that the Death in Service benefit reaches the parents of the deceased. Are they expecting this money and do they understand where it is coming from? We appreciate your assistance and excellent work.

Susan Bauer ~ London, UK

I have no words to express my gratitude to you. People like you are very rare and I have the priviledge to know one of those. May God shower all blessings on to you and your family. I am a small man with only prayers on my lips.

Dr. Haridev Bhargava ~ Saratoga, USA

I must say your handling of this matter has been totally sterling and I shall not have any hesitation in recommending you and your firm to others.

Rosina Ahmad ~ UK

Good morning, I received the documents back yesterday afternoon. Thank you so much for your quick response to the job. We really appreciate it. Looking forward to working with you in the further.

Mrs. Jan Malcolm ~ Auckland, New Zealand

Thank you very much for the case. It is just brilliant! I am so grateful that you went out of your way to help me."

Loraine Bhan ~ Suva, Fiji

I do appreciate highly the sense of commitment your office wishes to dedicate to the follow up of our question for information. I have transmitted the contents of your email IMMEDIATELY to the contact, together with confirmation of the highest esteem we attribute to the quality of the services rendered by ZAFAR & ASSOCIATES.

Paul Wouters ~ Istanbul, Turkey

Thank you very much for the information and good news. I know you've been working too hard and I appreciate every single minute working with you all. It's an experience to be in the team of hardworking people and I am very proud to be included.

Evangeline Williams ~ Paphos, Cyprus

I would like to thank you for your swift and excellent service that your office recently provided us. I would definitely forward your contact information to my friends and family in reference to seeking legal matters in Pakistan. I would also inform Sean Hogan and his associates to pass on your contact information to any clients that may need assistance in the matters of law in Pakistan.

Zarar Khan ~ Miami, USA

We are greatly impressed with your firm and the professional calibre of the partners. If acceptable, we would like to keep your firm as a reference for future projects. Please let me know.

Tanaz Pardiwala ~ Barcelona, Spain

We are happy to inform you that we have received the original succession certificate via DHL. I want to take this opportunity to thank you for your efforts, especially Dr. Zafar, who was kind enough to handle the security deposit at the court. With our best wishes and success for the New Year, to you and your esteemed team, we remain with.

Mansur Asrar ~ Istanbul, Turkey

I am writing to convey to you how much I appreciate your prompt service! My mother called me today and informed me that 2 lawyers from your firm visited her. It is a pleasant surprise to know that such a law firm exists in our very own country. I would definitely recommend your firm to any friend who is in need of professional legal services in Pakistan.

Naveed Ahmad ~ USA

I am truly very impressed with the follow up of your law firm. I never thought a Pakistani firm would be so aggressive and pro-active. Do you even happen to come to NYC? If so, then please look me up here when you visit next.

Faisal Mumtaz ~ New York, USA

I want to thank you for all services you have rendered to us. I really appreciate it and hope on further cooperation.

Petrov Andrey ~ Moscow, Russia

With God's help you have done a great thing for our family. Thank you so much for your diligence and expertise. We are truly grateful to God for all that is possible now. We also are looking forward to meeting you and your staff when we arrive in Pakistan next month. Please let us know if there is anything we can bring for you from the United States as a gift.

Shaukat Minhas and Colleen Davidson ~ Dallas, USA

Your help in investigation case is well appreciated. My brother and I are ever grateful to you for obtaining the document. Thank you and god bless you and your practice team.

Kevin Lessani - Dallas - USA

I greatly appreciate that your law firm is very careful in its preparation of petitions. In fact, the outcome of a legal fight greatly depends on how effectively a law firm has presented its case. If it fails to conceive in advance as to what it will have to face in defense, it can not prepare an effective petition. I admire that ZAFAR & ASSOCIATES - LLP are very careful in their initial step i.e. to prepare petition, around which the whole legal battle is fought.

M. Iftikhar Sheikh ~ Dhahran, Kingdom of Saudi Arabia